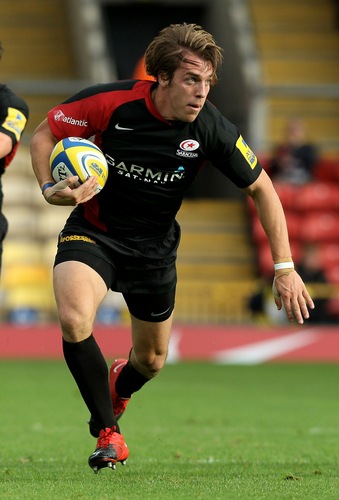 Chris Wyles
Lots of questions remain unanswered after the completion of the fourth round of the 2011-2012 Heineken Cup. Whilst some of the big teams have already been eliminated, just who will make the Quarter Finals remains open to debate with two or three teams in each group still having a realistic opportunity to qualify for the top eight. For others the quest to win the grand prize was ended this weekend. Racing Métro have no chance of making the play-off´s and they saw to it that London Irish would not progress either. The Ospreys look like their chances have ended following a home defeat vs Edinburgh. Clermont came close to eliminating the Leicester Tigers but blew a lead in going down to the highly fancied English side. The Glasgow Warriors blew a unique opportunity and are now in doubt of making the Quarter Finals while the Harlequins and Biarritz look to have got their season back on track and now are in sight of a place in the Top Eight. Only Leinster look like being certainties for the Quarter Finals while Munster are close and Toulouse were given food for thought. The round featured a large number of players from the Americas with Argentina, Canada, Uruguay and the United States of America all having players in action on Europe´s biggest stage.
Group One: Munster 19 - 13 Scarlets
Two time champions, Munster look to have secured a Quarter Final after knocking over the Scarlets at Thomond Park on Sunday afternoon. USA born Irish interantional flyhalf,
Ronan O'Gara
kicked four penalties and a conversion for Munster.
Group One: Northampton Saints 45 - 0 Castres
The Saints will regret their performance last weekend as their huge win on Sunday counts for nothing now that they cannot make the Quarter Finals. Uruguay´s
Rodrigo Capó Ortega
was on the bench for Castres while the USA´s
Samu Manoa
started in the backrow for Northampton. Playing in the unfamiliar position of number 8, the USA secondrower won man of the match. Castres have struggled in the Top 14 Orange since teams have been reinforced by their test players from World Cup duty and are now in a fight to stay in the race for a place in the play-off´s.
Standings
1 Munster 16
2 Scarlets 11
3 Northampton Saints 8
4 Castres 6
Group Two: London Irish 19 - 25 Racing Métro
London Irish are now eliminated after the English side was defeated by a vastly weakend Racing Métro team. The Parisians fielded as very different side to normal as they club is happy to throw matches now to focus on the Top 14 Orange.
Alvaro Galindo
played his first match of the season after recovering from injury while
Juan Orlandi
also started. Juan Martín Hernández was on the bench.
Group Two: Edinburgh 19 - 12 Cardiff Blues
Edinburgh´s superb home win puts the Scot´s in first palce of its group. Cardiff´s lack of play making abilities given its reliance on Dan Parks proved fatal as the Scot´s were able to shut down the Welsh side. The result means the two sides share the lead but both still have tought matches vs London Irish and Racing Métro. Former Pumas secondrower, Esteban Lozada came off the bench for Edinburgh.
2 Edinburgh 13
3 London Irish 8
4 Racing Métro 7
Group Three: Leinster 53 - 27 Bath
Leinster are well in control of group three after dominating English side, Bath in Dublin on Saturday. After leading 45-6, Leinster became lazy but still got a big win. USA hooker, Chris Biller started for Bath.


Group Three: Montpellier 13 - 13 Glasgow Warriors
A significantly understrenghted Montpellier drew with the on form Glasgow Warriors to complicate matters tremendously for the Scottish side. Montpellier having already been eliminated have been giving preference to the Top 14 Orange rather than fielding its top players for European duty. It turned out to hurt them as with the teams top goalkicker, Martín Bustos Moyano not playing Montpellier missed a late kickable penalty which would have given the French side victory. Former Pumas winger, Federico Martín Aramburu played the full match for Glasgow while the only Puma playing for Montpellier was Maximilano Bustos who came on as a replacement and recieved a yellow card.
2 Glasgow Warriors 10
3 Bath 6
4 Montpellier 6
Group Four: Leicester Tigers 23 - 19 Clermont
The Tigers´win sees both sides remain in contention and both could still qualify if they both defeat Aironi and claim a bonus point and also both defeat Ulster. The teams fought out a poor match at Welford Road in which neither flyhalf was able to play to the standards required for his team to succeed.
Horacio Agulla
started for Leicester on the right wing and
Martín Castrogiovanni
played at tighthead prop. Canadian secondrower,
Jamie Cudmore
was a force for Clermont throughout the match.
Leicester-ASM : le résumé
por asm
Group Four: Aironi 20 - 46 Ulster
One of the big surprizes is Ulster who lead the group but the Irish province is on top after having played Aironi twice in the past two weekends. With Leicester and Clermont both having a game in hand vs Aironi its fair to say Ulster have no real advantage in the standings. Ulster need to defeat one of them, at least, or be eliminated. Aironi had two Argentine players with Gabriel Pizarro and Luciano Orquera both starting.
2 Leicester Tigers 12
3 Clermont 11
4 Aironi 0
Group Five Biarritz 29 - 12 Benetton Treviso
Italian side, Benetton Treviso was sitting confortable with a 6-0 lead but with Francesco Minto being redcarded in the 24th minute for headbutting the pressure was suddenly reversed. Benetton Treviso did go further ehad to 12-0 but a late run of tries gave Biarritz a bonus point victory. Marcelo Bosch played the full match at outside centre while Francisco Gómez Kodela started at tighthead prop and Manuel Carizza retuerned from injury to play 74 minutes for the Basque side. USA winger, Taku Ngwenya ran wild but did not score a try. Benetton Treviso featured four Argentine players with Pedro Di Santo, Diego Vidal, Ignacio Fernandez-Rouyet and Gonzalo Padro all coming on in the secondhalf. Toronto´s Italian international backrower, Robert Barbieri played number 8 for Benetton Treviso.
Group Five: Ospreys 13 - 16 Saracens
Welsh side, the Ospreys drop behind Biarritz and have put Saracens in Pole Position of the group following their surprizing home loss vs the London side on Friday. Argentine born former Italian prop, Carlos Nieto came off the bench for Saracens. The London side featured USA Eagles fullback, Chris Wyles who played on the left wing before being replaced in the secondhalf. Former USA age grade player, Hanno Dirksen was on the bench for the Ospreys but Canada´s Chauncey O´Toole did not play. Hayden Smith did not feature for Saracens due to his ongoing recovering from injury.
2 Biarritz 12
3 Ospreys 8
4 Benetton Treviso 6
Group Six: Gloucester 23 - 19 Connacht
English side Gloucester were lucky to get away with a win over the weakest Irish side, Connacht but will take it nonetheless. It is unlikely to make a difference as Toulouse and the Harlequins are better placed. Mendoza´s Matías Cortese played the final minutes for Gloucester at hooker.
Group Six: Toulouse 24 - 31 Harlequins
The last match of the round produced the biggest upset with the Harlequins knocking over tournament favorites, Toulouse in Toulouse to close the gap to one point in the group. Pumas secondrower,
Tomás Vallejos Cinalli
played 78 minutes for the Harlequins and inside back
Benjamín Urdapilleta
was unused from the bench. neither scrumhalf Nicolás Vergallo nor secondrower Patricio Albacete featured for Toulouse.
Standings
1 Toulouse 13
2 Harlequins 12
3 Gloucester 9
4 Connacht 2