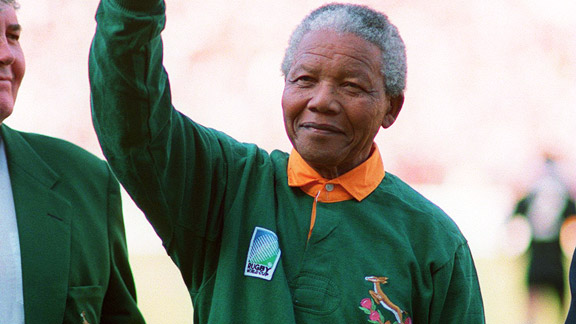 Nelson Mandela and Jonah Lomu have lived on as the biggest talking points from Rugby World Cup 1995. The tournament was a breakthrough in many ways. It was the third World Cup but was the first to be hosted by a single country. It marked the return of South Africa to the global stage following the country´s racist apartheid regime and was notable for occuring in the final days of amateurism. Sixteen teams competed at the tournament with Argentina and Canada being the two sides from the Americas.
Rugby World Cup 1995 was not the best tournament for Los Pumas. The South Americans were drawn into a tough group which included 1991 finalists England as well as Italy and 1991 Quarter Finalists Samoa. Argentina were unable to win a match but came very close. Los Pumas started the tournament with a 24-18 loss to England. The Europeans won despite failing to score a try while Argentina ran in two tries with Lisandro Arbizu and
Patricio Noriega
both crossing. Rob Andrew kicked six penalties and two dropgoals for England. Noriega´s try is featured among the best tries of the tournament in the video highlights below. Argentina´s next match was vs Samoa and again the match could have gone either waywith Samoa winning 32-26. The final match was vs Italy with the Europeans completing a 31-25 victory. Italy´s
Diego Dominguez
scored nineteen points in the win. The flyhalf had previously played rugby for Argentina, but left his native Córdoba to play in Italy due to him being unable to break into Los Pumas ahead of Hugo Porta.
Patricio Noriega - The Wallaby
Now aged 40, Patricio Noriega lives in Australia and is involved in the national coaching set up with the Wallabies. In his international career for Argentina he played 25 test matches but like Diego Dominguez he went on to play international rugby for a different country. Under the previous laws players could play for a second country after a stand down period. Noriega did just this after he moved to Australia in 1996 to play Super Rugby for the ACT Brumbies. Having debuted vs Paraguay as a nineteen year old in 1991, Noriega went on to play in Rugby World Cup 1991 and 1999 for Argentina. However, when into his third season of Super Rugby, he was approached to switch teams to play international rugby for Australia. He took up the offer and made Wallabies debut in 1998 vs France. He missed out on a place at Rugby World Cup 1999 due to a shoulder injury. His career continued in France for Stade Français before he returned to Super Rugby to play for the New South Wales Waratahs. In 2004 he announced his retirement.
Canada also participated and completed an outstanding 34-3 win over Romania but were unable to repeat the conquest of 1991 when Canada were World Cup Quarter Finalists. Aside from Romania Canada faced both Australia and South Africa. Had either Argentina or Canada been drawn into one of the two other pools then their chances of success would have likely been greater. Pool C featured New Zealand, Ireland, Wales and Japan. Neither of the two European sides were particularly strong at the time. While Pool D featured France, Scotland, Tonga and the Cote d´Ivoire. Tonga had not competed at Rugby World Cup 1991 while the Africa side was debuting and, at the time, it was questioned whether or not the team merited its place ahead of the likes of Fiji and the USA who missed out due to their regions only having two qualifying places each.
Essais coupe du monde 1995
por caldolapino