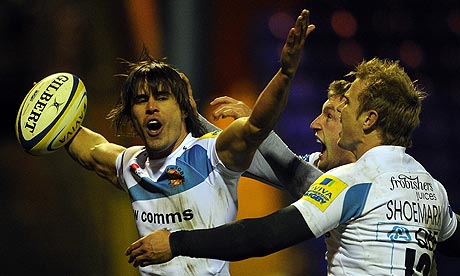 After being built up as the next Juan Martín Hernández by hopeful fans, Argentine fly half Ignacio Mieres passed through three of Europe's biggest clubs without making much of an impact. Firstly, he was brought to Leicester on a trial by former Pumas coach Marcelo Loffreda but that move was scrapped when Loffreda was sacked. He then moved to Stade Français, but didn't play and spent his first season on a loan deal to Perpignan as a medical joker for Dan Carter. He received a bit more game time in his second season with Stade but not much, and was released at the end of the 2009/10 season.
Mieres then moved back to Argentina, but in October was signed by newly promoted Exeter Chiefs to be third choice fly half, behind Gareth Steenson and Ryan Davis. But towards the end of last season, Mieres fought his way onto the bench and then started the last two matches of the season and then started this season as first choice fly half and has started 7 of the first 9 Premiership matches, nudging Steenson
who was winning massive plaudits at the beginning of last season
onto the bench.
I think what Mieres needed all along, was to settle at a club which he wasn't allowed to do at Leicester, Perpignan or Paris. He is a very skilled fly half, with good a good touch and vision and at 24 his ambitions of playing for the Pumas are far from over, and to be honest I think Stade Français should have persevered with him for longer.
Last Friday in the Aviva Premiership, despite Mieres only starting on the bench he came on at 50 minutes with the Chiefs 23-10 down, the dominant Exeter pack brought them back into the match, and with the scores level an intercept pass thrown by Tasesa Lavea was gladly collected by Mieres to score the match winning try. Exeter's other Argentine Gonzalo Camacho set up the first try with a half break and then offload.
(watch video below to see Camacho's assist and Mieres' match winning try)