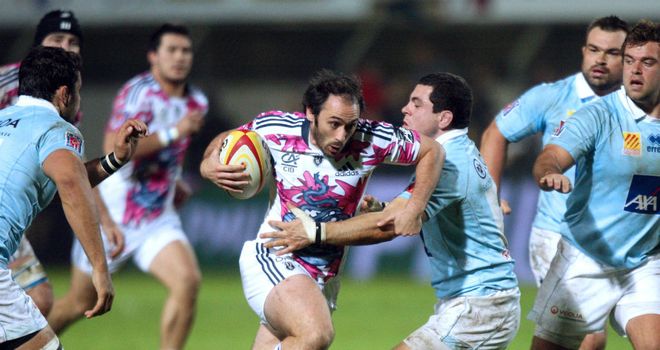 Round 11 of the Top 14 Orange featured plenty of players from the Americas in action with Pumas captain, Felipe Contepomi showing that his international career could see him play in The Rugby Championship. The Pumas World Cup skipper produced an outstanding performance as he created two tries for his teammates - Sergio Parisse and Martín Rodríguez Gurruchaga. The 34 year old Puma also put Samoa´s Paul Williams in the gap for Stade Français´ first try. Paris´s other side, Racing Metro moved up the standings with a big win over Biarritz who stay bottom of the table. Montpellier completed an important win over 2010 Champions, Clermont to move clear of the relegation zone while Agen are in the unlikely position of being in the top six. Players from the Americas?
Perpignan 16 - 35 Stade Français
Felipe Contepomi converted a try and played flyhalf with tryscorers Martín Rodríguez Gurruchaga playing inside centre and Sergio Parisse in the backrow. Rodrigo Roncero played loosehead prop. The Parisians important away victory means the team is on the verge of a place in the top six which would mean a return to the Heineken Cup and a place in the Top 14 play-off´s for the first time since 2009. Perpignan´s terrible season may get a little easier next weekend with a trip to Lyon whilke Stade Français wil light up the Stade de France as they host Racing Metro. Could it be Contepomi vs Hernández?
An important win for Bayonne which featured Pumas backrower, Juan Manuel Leguizamón playing the full match for Lyon. Neither side scored a try but Lyon managed to secure a bonus point. Despite having matches in hand, following the rescheduling of matches, Lyon are in the relegation zone and space may be starting to open up. Bayonne are sandwiched between Perpignan and Montpellier on the ladder and will need to step up significantly or drop behind.
Racing Metro 28 - 9 Biarritz
A three try victory with
Juan Martín Hernández
playing the full match at flyhalf and kicking two penalties. Juan Imhoff was rested with a minor ankle injury while Alvaro Galindo continues his recovery. Prop
Juan Pablo Orlandi
played one hour for the Parisians.
Francisco Gómez Kodela
played 29 minutes for Biarritz who fielded many secondstring players.
Marcelo Bosch
was unused from the bench. USA Eagle
Taku Ngwenya
played on the right wing. Racing hold on to a spot in the top six while Biarritz are now two wins behind the twelve placed side and desparately need to string together some wins. Their home match vs Montpellier on Saturday will be a highlight of the round.
Montpellier 29 - 23 Clermont
Montpellier returned to winning ways in a match which both teams scored two tries. Five players in contention for a place in The Rugby Championship in 2012 featured for the winners.
Agustín Creevy
started at hooker and was substituted in the secondhalf.
Lucas González Amorosino
played the full match at fullback and
Santiago Fernández
did so at inside centre. Winger
Martín Bustos Moyano
played the full secondhalf while tighthead prop Maximilano Bustos was unused from the bench. Clermont will host third placed Castres on Saturday.
Brive 9 - 9 Toulouse
A tryless match which works out well for Brive who had former Pumas scrumhalf
Agustín Figuerola
and tighthead prop
Pablo Cardinali
starting. A second former Pumas prop,
Pablo Henn
entered in the 59th minute. Argentine World Cup scrumhalf,
Nicolás Vergallo
came on in the 66th minute for Toulouse. With brive having one of the weaker squads of all sides the teams position on the table is, for now, encouraging.
Castres 22 - Toulon 22
Toulon blew a 19-6 halftime lead as Castres completed a late draw.
Leonardo Senatore
played the full match for Toulon and Uruguay´s
Rodrigo Capó Ortega
did so for Castres. The result means the sides both stay in the top four. This may change with matches against the top two sides on Saturday.
Agen 24 - 15 Bordeaux-Begles
A tryless match featuring two of the least fanciest teams in the competition saw the home side´s successful start to the season continue. Agen are in with a real chance of a return to the Heineken Cup if the side can stay where it is on the Top 14 table or go even higher. Bordeaux-Begles have dropped behind Bayonne and Montpellier and are in need of victories or they could soon find themselves in the relegation zone. Former Pumas centre,
Miguel Avramovic
started for Agen as did the veteran of four World Cup´s
Martín Scelzo
.The young Tucumán flyhalf,
Nicolás Sánchez
came on in the 49th minute for Bordeaux-Begles and
Rafael Carballo
played the final thirteen minutes. Bordeaux-Belgles host Brive next weekend while Agen should win again, vs Bayonne.
Top 14 Orange Standings
1 Toulouse 38
2 Clermont 36
3 Castres 33
4 Toulon 30
5 Racing Metro 29
6 Agen 28
7 Stade Français 26
8 Brive 21
9 Perpignan 19
10 Bayonne 19
11 Montpellier 18
12 Bordeaux-Begles 17
13 Lyon 13
14 Biarritz 10
Perpignan vs Stade Français
Résumé du match USAP STADE FRANCAIS Nov11
por USAP_Communication
Racing Métro vs Biarritz
J11 - RM 92 v BO - Le résumé en vidéo
por racingmetro92
Montpellier vs Clermont
Castres vs Toulon