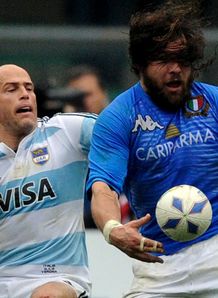 Los Pumas hopes of repeating their amazing achievements from Rugby World Cup 2007 in Rugby World Cup 2011 were boosted earlier today as Argentina defeated Italy 22-16 in the northern Italian city of Verona. It was a typical Italy vs Argentina match with a continuation of the bad blood between the sides. Both teams measured each other up in the first half with huge defensive hits and little width being used from either side.
Italy looked like scoring first with Argentine born captain, Sergio Parisse breaking clear from inside his own half and running 40 metres only for Felipe Contepomi to chase him down and tackle him into touch. Italy would, however, open the scoring as Racing Metro winger, Mirco Bergamasco continued his positive form with the boot since officially being handed the task of goalkicking one year ago as he kicked Italy 3-0 ahead in the 6th minute. Felipe Contepomi responded 10 minutes latter to lock the scores at 3-3. Bergamasco slooted his second in the 30th minute to thunderous applause from the strong crowd and Contepomi responded in the 38th minute to close out a tryless and nervous first half 6-6.
Argentina entered the match without two of the first choice backrowers in Alejandro Campos (Agen) and Juan Manuel Leguizamon (Stade Français) as well as first choice secondrower, Patricio Albacete. Los Pumas were always going to be disadvantaged against a strong forward pack like Italy without these players and without playmaker Juan Martín Hernández too. The situation took a turn for the worse late in the first half as number 8 Juan Martín Fernández Lobbe was forced to leave after coming off second best from a great tackle from Parisse. Los Pumas were thus, down to their second choice backrow for the second half.
The second half started well for the visitors with a superb try from 80 metres out. Centre Santiago Fernández recieved a pass from a ruck and fed fullback Martín Rodriguez Gurruchaga who did well to get attract defenders before passing to Lucas Gonzalez Amorisino who kicked over his opponent, regathered and fed Rodriguez Gurruchaga for an outstanding try - Argentina´s best of 2010. The three players have all debuted for Los Pumas since Rugby World Cup 2007 and all did so as amateur players playing in the URBA Top 14 in Argentina. Today all three play for top European clubs and look like being stars of the future with New Zealand 2011 fast approaching.
Bergamasco kicked his third penalty in the 68th minute to cut the lead to 13-9 before Contepomi kicked two of his own to put Los Pumas 10 points clear with 8 minutes of play remaining. When secondrower, Mariano Galarza, was yellowcarded in the 76th minute, Italy had an extra man at the scrum and they used it to their advantage in scoring a penalty try in the 78th minute which Bergamasco converted to put Italy back within three points of the South Americans. Contepomi, however, answered back with his fifth penalty which gave him a personal tally of 17 points and closed the match at 22-16. Contepomi now only needs 44 further points to over take Argentine legend Hugo Porta as the highest pointscorer in the history of Argentine rugby.
Positives for Los Pumas in the triumph include impressive performances from Rodrigo Roncero, Genaro Fessia, Felipe Contepomi, Gonzalo Camacho and Martín Rodríguez Gurruchaga. Unfortunately secondrower Manuel Carriza is out of the rest of the tour with a broken arm while backrowers Genaro Fessia and Fernández Lobbe both left the field with injuries.
The win vs a top European opponent in an away match, Italy, was their fifth in a row in Italy. The FIR made a bid to host Rugby World Cup 2015 or 2019 which suggests that Argentina would appear to be a better option.